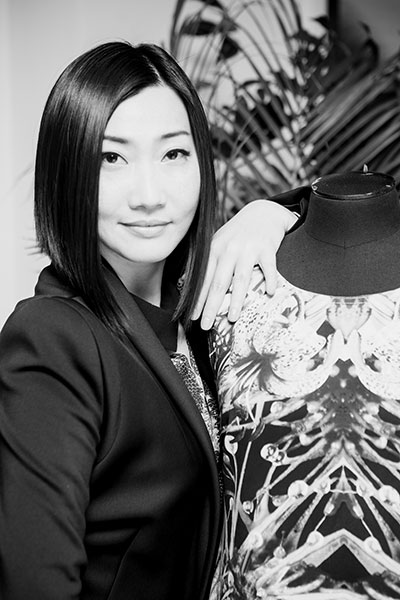 From the crossroads of east and west, Xinzhan crafts beautiful clothes with a chic Parisian edge inspired by classic Chinese designs. Refined fabrics and evocative prints bring her styles to life and will stir the imagination of the most demanding fashionistas.
Born in Shanghai, Xinzhan studied fashion in China and France and began her career at Atelier Chardon Savard in Paris. After graduation, she worked in Paris for Christian Lacroix. In 2001, she launched Gaowei+Xinzhan with another designer and the brand quickly earned a reputation for elegant and sensual designs. When Gaowei later left, Xinzhan continued the brand on her own.
In the +XINZHAN lines, she combines principles of inner beauty with imagery and symbolism from nature — all while staying true to her east-west heritage. Her simple yet sophisticated designs unite flora and fauna details with bold and radiating shapes inspired by jewels and eastern architecture. Through flowers and butterflies that playfully outline vivid patterns to subtle and exquisite ornament and column designs, her dresses seamlessly amplify women's sense of glamor and seduction.
Xinzhan's designs have enjoyed continued success around the world. Her dresses are distributed in multi-brands stores such as H. Lorenzo in Los Angeles, Luisa Via Roma in Florence, Harvey Nichols in Hong Kong, and le Bon Marché in Paris. +XINZHAN also operates its own store in Paris.